Overview of Our Electric Vehicle (EV) Business
In countries of the ASEAN and Southeast Asia regions, three-wheeled taxi-use vehicles such as tricycles, tuk- tuks and rickshaws/bajaji serve as popular, widely used means of getting around in day-to-day life. However, many of these use older engine types whose exhaust gases contain air pollutants that create various problems for the global environment and lower the quality of people's daily lives. The governments of these countries are implementing various measures in response that promote the further spread of EVs as an alternative to vehicles with these old, polluting engines. Through EV business efforts, BEMAC develops three-wheeled EVs ("E- TRIKES") in Japan, then manufactures them in the Philippines while fostering local markets there. Furthermore, BEMAC is expanding sales throughout the ASEAN market of power control units (PCUs), which include motors, batteries, inverters, vehicle control units, electric control units, and other such components.
Low-Speed Electric Vehicle ( E-Trikes )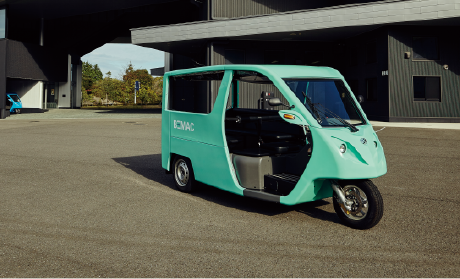 We believe there is strong demand for the introduction of eco-friendly vehicles in the taxi market. In 2012, we began development of E-TRIKE low-speed EVs with the aims of improving local environments and creating new employment opportunities, and in 2013 we completed the initial prototype vehicle. That same year, we became the first Japanese company to acquire a vehicle license plate number in the Philippines for a three- wheeled electric vehicle, and began conducting repeated local road tests.
Driving an E-trikes on public road in Japan
In March 2022, our electric tricycle, "68VM" was registered as a small-type low-speed public commuter vehicle in Japan. Such compact and low speed type of EVs is considered of becoming an alternative solution as a secondary means of transportation in narrow alleys of old towns, tourist destinations, and rural areas with a small in domestic as well. BEMAC continues to keep putting effort on supporting the development of the lifestyle for coming era.
PCU ( Power Control Unit )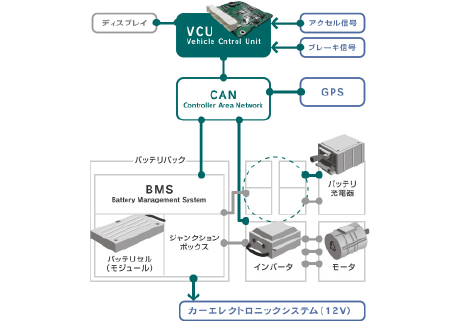 We develop power control units (PCUs), which play a central role in EVs and comprise motors, batteries, inverters, electronic control units (ECUs) and other such components. We also develop the battery management units (BMUs) used inside PCUs to provide battery control.
Major Products