Overview of Our Marine Plant Business
Serving as a leading manufacturer in Japan of electrical equipment for marine vessels, BEMAC's marine plant business encompasses everything from design through to manufacturing, installation and maintenance for power distribution systems, control equipment and all other types electrical equipment and systems used on large ships.
We are one of just a few companies who is equipped to handle everything from manufacturing to electrical wiring and installation for vital electrical equipment on ships, including power distribution systems, power management systems, instrumentation, networks and more. Making use of deep-reaching knowledge and experience built up over the years, we provide unique large-vessel systems and equipment, individually tailored to each ship.
Marine Manufacturing Field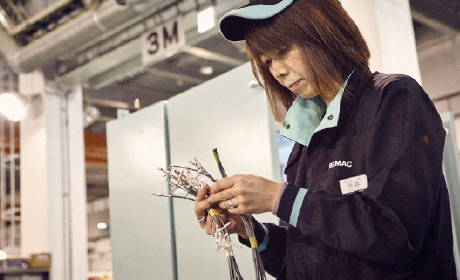 We handle all types of marine on-board electrical equipments such as Control of Power Distribution System and Data Communications. By providing integrated line of services from technical designs, manufacturing and installations to after-services, we can precisely meet customer's needs. Furthermore, our world-class level production technology supports to shorten delivery time, improve product quality and offers high correspondence skills to marine construction sites.
Marine Constrution Field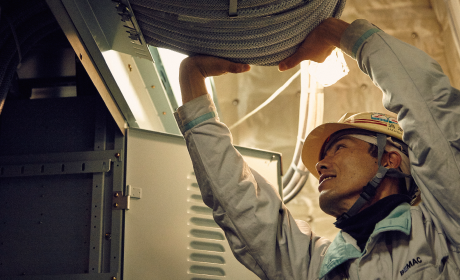 We provides effective marine management and speedy electrical construction services through completely understanding the customer's needs by expertise's own eyes and ears and systemizing smoothly among our designers, manufacturing technicians and site engineering staffs whose skill has been heighten by accumulation of work as equipment installation jobs and cabling connections under special marine condition where spaces are limited.
Marine Merchandise Field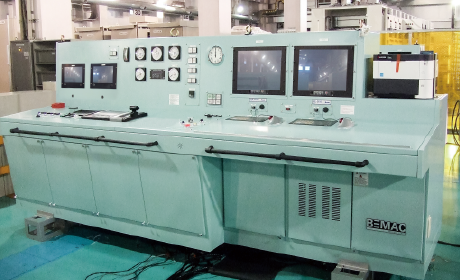 More than anything, important equipment that supports sea transport such as radar, autopilot, and electricity generators must function precisely and reliable. Our company offers a full range of services from sales of these marine equipments to inspection, installation and maintenance. Through this integrated servicing system, we support safe and secure sea transports. Furthermore, by coordinating as general contractor, we offer high cost performance.
Major Products